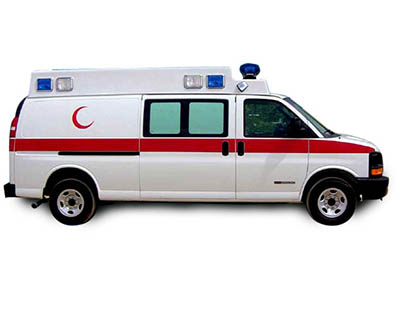 The Type II Ambulance is defined as a converted long wheel-base van. This type is the most popular ambulance used worldwide.Other good features are: easy handling through crowded and narrow streets, good fuel economy, and the least expensive of the three ambulance types. Type II ambulances are built using a van type chassis. The only major modification to the vehicle is that the roof is raised. Type II ambulances are mostly used by hospitals, Ministry of Health and when the ambulance is used to transport patients that only require Basic Life Support features.
Specifications
Extended Aerodynamic Fiberglass Roof. Interior cabinetry of fiberglass or plywood made. Easy access power distribution panel. Electrical Outlets: 12VDC plugs and 220VAC are provided. Warning Lights distributed to give a the best illumination. Hi/low halogen or Fluorescent interior Dome lights. Medical furnishing can be provided according to the client requirements.
♦ Central oxygen system with quick disconnects coupling and outlets.
♦ Built in suction unit.
♦ Main roll-in coat.
♦ Folding stretcher.
♦ Spinal board.
♦ Head immobilizer.
♦ Sphygmomanometer.
♦ Stethoscope.
♦ First Aid Kit