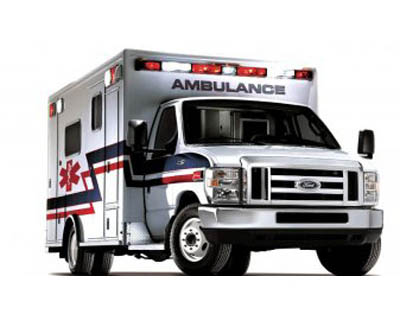 The Type III Ambulance uses a cutaway van front on exposed chassis rails. This allows for mounting a modular on a van front chassis and is the most flexible of all ambulance models. Chassis are available in frame length to accommodate modular units. Type III offers more interior room and exterior compartments. In comparison to TypeII abulances, the ability to remount the modular numerous times could make Type III more economical. One of the key features of Type III ambulances is a walkthrough passage between the patient carrier and the driving cab. Type I and III have a square patient compartment that is mounted onto the chassis. The only difference between Type I and III is in the chassis. Type I is mounted on a truck like chassis. Whereas, Type III is mounted on a cut-a-way van chassis. Type I and III ambulances are mostly used at airports, chemical plants, oil refineries and when the ambulance has to be equipped with medical equipment for Advance Life Support.
Specifications
A full-sized workhorse with custom designed, abundant interior storage to compliment a variety of spacious and unique exterior compartment configurations. Design to provide you with maximum safety, performance and reliability. Box Module customized according to Chassis Type. Box pan formed All Aluminum Construction, aluminum Tubes and sheets. Exterior compartments for different usage, Oxygen Bottles, Storage, etc… Medical Cabinet fascias /high grade Plywood-Laminated Formica. Easy access power distribution panel Electrical Outlets: 12VDC plugs and 220VAC are provided. Warning Lights distributed to give a the best illumination Hi/low halogen or Fluorescent interior Dome lights Medical furnishing can be provided according to the client requirements.
♦ Central oxygen system with quick disconnects coupling and outlets.
♦ Built in suction unit.
♦ Main roll-in coat
♦ Folding stretcher
♦ Spinal board.
♦ Head immobilizer.
♦ Sphygmomanometer.
♦ Stethoscope.
♦ First Aid Kit.